Carriers are reporting longer-than-normal shipping times. Acoustic Sounds is not responsible for in-transit delays.

| | |
| --- | --- |
| Viewing 1 - 1 of 1 Products | |
---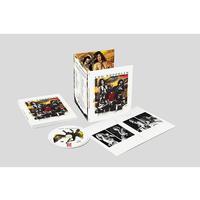 Product No:
CATL 835870
Available:
InStock
Category:
Blu-ray Audio
Label:
Atlantic
Good not great on the Stereo mix





4 Stars
Posted Friday, April 20, 2018 by Anonymous Long time Zeppelin fan. This review is more about sound quality than performance, which is very good. And the music is great. Explosive at times, which is what Zeppelin should sound like. That said, I don't like the recent album re-releases overseen by Jimmy Page. I like the idea of high resolution releases such as this. But, they need to sound good and have some dynamic range to them. I have refused to buy any of the recent remasters because they sound very thin.
This 24/96 PCM Blu Ray sounds better than the recent album remixes. There is more bass which is surprising given that this is live rather than a studio release. The dynamic range on the stereo layer of this Blu Ray release ranges from 8 (poor) to 11 (moderate). The multi-channel mix is a bit better at 8 to 14. The dynamics of the band are not well represented as a result. But, at present, this recording might be the best sounding Zeppelin recording available.
---
| | |
| --- | --- |
| Viewing 1 - 1 of 1 Products | |