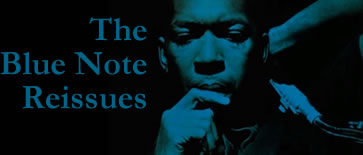 The same formula that made the Fantasy 45 Series perhaps the most successful audiophile reissue collection ever is now being reapplied to a Blue Note reissue project!

How can Blue Note Records - maybe the most famous jazz label of all time - be left out of plans to align the best jazz records with the best means for audiophile sound? It can't, of course. And so Acoustic Sounds' own reissue label, Analogue Productions - the same label that brought you the Fantasy 45 Series - is now reissuing 25 cherry-picked Blue Note titles to be released throughout 2008.

This reissue series will follow the aforementioned ultra-successful formula: Incredible jazz records + the original analog master tapes + cut at 45 RPM + mastered by Kevin Gray and Steve Hoffman at AcousTech + pressed on two 180-gram virgin vinyl LPs by RTI = THE ULTIMATE LP REISSUE

"Why mess with success," was our thinking.



The Truth about Blue Note Monos


Many customers have wondered why we've chosen to favor Stereo over Mono in our latest Blue Note Records reissue project. It seems there's a fair amount of misinformation out there regarding a perception that Mono Blue Notes are superior to their Stereo counterparts. The truth is, every Rudy Van Gelder Blue Note session after October 30, 1958 was recorded in Stereo only. The Mono releases of those recordings were created by folding down the Stereo master tape. In other words, there was no true Mono master, only a Stereo master that then birthed the Mono master! There was a short period of time - March 1957 to October 30, 1958 - when RVG did in fact run dual Mono and Stereo session tapes. For Blue Notes from that period of time, the Mono version was in fact cut from a Mono master. But for all others, every Mono was cut from a folded-down Stereo tape. In fact, the master tape boxes from these great sessions each include a notation by RVG himself that says, "monaural masters made 50/50 from stereo master."

Mono Blue Notes are typically much more desirable on the collector's market. Because of that, the assumption of everyone involved with both the Analogue Productions and Music Matters, Ltd. Blue Note reissue projects was that the Mono master tapes were going to sound better than the Stereo master tapes. Imagine the surprise when mastering engineers Kevin Gray and Steve Hoffman discovered that there were no true Mono master tapes for sessions later than October 1958! But of course the real proof is in the reel. Without a single exception, Kevin, Steve and everyone involved agreed that the Stereo masters sounded vastly superior to the summed Mono masters. The Stereos, in every instance, sounded much more lifelike with far greater detail, air and ambience.

Another point supporting our choice to favor Stereo, as if there's any need for one after that discovery, is that listeners can still choose to hear these classic recordings played back in Mono by simply pushing the Mono button on their preamp or by using a Y-connector to feed the two Stereo channels into Mono, exactly as RVG himself did.

So, however you choose to enjoy these reissues, we hope we've helped to dispel a myth.

Thank you sincerely for your business.




Sign up for all 25 Blue Note Reissue titles and receive the same numbered-edition copy of each release
We'll automatically ship you the records as they come available, and we'll cover the shipping (continental U.S. only; international customers will be charged exact shipping based on weight)! Your credit card will not be charged until the records ship.

To sign up for the series, call 800-716-3553, or email: bluenote@acousticsounds.com.

The press is getting hip to this series, too! Check out the April issue of Stereophile (shipping now!) to read about writer Jason Victor Serinus' visit to AcousTech Mastering to watch Kevin Gray and Steve Hoffman work with these legendary Blue Note master tapes. Not to be outdone, Dan Babineau from Tone Audio made his own trip to AcousTech to watch Gray and Hoffman at work. Check out Babineau's feature here.

Read much more about the Blue Note Reissue Series, including a look at Blue Note prints by photographer Francis Wolff, a sneak peak at the master tape boxes from Lee Morgan's Leeway and in-depth descriptions of why 45 RPM is the audiophile's choice and why we chose to favor Stereo over Mono for this reissue series. It's all right here.
---
Viewing 1 - 20 of 25 Products
«

1

2 »
Viewing 1 - 20 of 25 Products
«

1

2 »
Search Tips