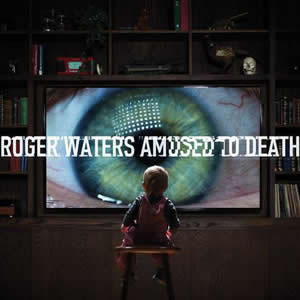 ROGER WATERS' PORTRAIT OF A DISTRACTED SOCIETY, AMUSED TO DEATH, CELEBRATED WITH REMASTERED RELEASE
2015 EDITIONS FEATURE NEW 5.1 SURROUND REMIX ON BLU-RAY AUDIO, NEW COVER AND GATEFOLD ARTWORK
AVAILABLE FRIDAY, JULY 24TH

ANALOGUE PRODUCTIONS/ACOUSTIC SOUNDS TO RELEASE 2LP 200G VINYL LP AND 5.1 SURROUND REMIX SACD IN UNITED STATES

April 15, 2015 – New York, NY – Roger Waters' album AMUSED TO DEATH returns in a remastered release from Columbia Records / Legacy Recordings on July 24th. Amused to Death sounded the alarm about a society increasingly – and unthinkingly – in thrall to its television screens. Twenty-three years later, Amused to Death speaks to our present moment in ways that could scarcely have been anticipated two decades ago.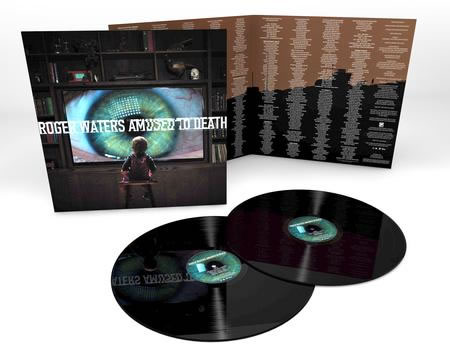 "I'm remembering the record from [over] 20 years ago, that most of what I had to say then sadly still pertains today and is maybe even more relevant to our predicament as people in 2015 even than it was in 1992," says Roger Waters.
An unblinking look at an entertainment-obsessed society, Amused to Death addresses issues that have only grown in complexity and urgency over the past two decades. In 2015, television is just one option in an endless array of distractions available to us anytime, anywhere, courtesy of our laptops, tablets and smartphones. With eyes glued to our screens, the dilemmas and injustices of the real world can easily recede from view.
The 2015 editions of Amused to Death feature a new 5.1 surround remix of the album on high-definition Blu-ray audio and a new remastered stereo mix completed by longtime Roger Waters / Pink Floyd collaborator and co-producer, James Guthrie. The cover and gatefold art has been updated for 2015 by Sean Evans, the creative director of Waters' 2010-2013 "The Wall Live" tour and movie.
Produced by Roger Waters and Patrick Leonard, Amused to Death is a musically ambitious work featuring a stellar lineup of musicians. Guitar legend Jeff Beck figures prominently on the album, bringing his signature virtuosity to eight songs. Guest vocalists include Don Henley ("It's a Miracle"), Rita Coolidge ("Amused to Death") and soul singer P.P. Arnold ("Perfect Sense" Parts I and II). Also contributing were Waters' longtime collaborators, guitarist Andy Fairweather Low and drummer Graham Broad; percussionist Luis Conte; and Pat Leonard, who played keyboards on several tracks. The album reunited Waters with composer/arranger Michael Kamen, who supervised orchestral arrangements for The Wall, Waters' semi-autographical concept album with Pink Floyd. Kamen arranged and conducted the National Philharmonic Orchestra Limited's contributions to the songs "Too Much Rope" and "What God Wants, Part III."
"… damned if Roger Waters' 14-track rumination on some of our choicest social ills doesn't score some serious points, especially in 'Late Home Tonight,' which, with music that evokes both a kiss at a drive-in and the peace of the wide-open sky, shows us an American pilot soaring toward Libya to bomb children, giddy as an exuberant teen with the sheer joy of flight." Grade: A-, Entertainment Weekly, September 11, 1992
"It is the poet's responsibility to foresee the future, and it is his neighbor's duty to prevent the worst of it from taking place. With Amused To Death, surely one of the most provocative and musically dazzling records of the decade, Roger Waters has fulfilled his part of the bargain." - Timothy White, "Music to My Ears," Billboard Magazine, July 1992
The 2015 editions of Amused to Death will be available on:
CD
CD / Blu-ray
SACD
Hi-res digital download (Details to be announced)
2LP 200 gram vinyl (pressed at Quality Record Pressings)
Limited edition, numbered 2LP picture disc vinyl.
Legacy Recordings has collaborated with Analogue Productions / Acoustic Sounds in the United States on the release of the 2LP 200 gram vinyl as well as SACD and DSD download audio products.
With AMUSED TO DEATH, Roger Waters painted a picture of a society serenely tethered to its televisions and increasingly untethered to the realities of an unjust world. Like most of Waters work, it is a concept-driven album that revisits themes and characters throughout its 14 songs. At its core, Amused to Death is a timeless reflection on the potential dangers of human excess – whether it's consumerism, war, religion, or the vapidity of the 24-hour news cycle – all inching us closer to becoming "amused to death."
Amused to Death was inspired by Neil Postman's seminal critique Amusing Ourselves to Death: Public Discourse in the Age of Show Business. Postman argued that electronic media had transformed all information, including news, into entertainment. In such an image-driven culture, he warned, people were less likely to give close thought to matters of real significance. "Postman talked about a propaganda machine so powerful human intellect couldn't resist it," Waters remarks. "Given all the distractions that there are in modern life, it is very easy to take our eye off the ball."
When Amused to Death was originally released, television was king and the digital age was in its infancy. Today, of course, we have an ever-growing menu of potential amusements at our fingertips, while circumstances in the world have grown darker and more dangerous. There are lyrics on Amused to Death that could easily describe recent events. "The Bravery of Being Out of Range" refers to "laser-guided bombs" that "hit the target/and win the game/from bars 3,000 miles away." Though written in the wake of the first Gulf War, the song stings in this era of drone strikes. Comments Waters, "Now that we have drones, I think that song is even more sinister."
Amused to Death is a record that rewards close listening, for its sound no less than its lyrical content. The songs are richly layered; sound effects course beneath vocals, instruments, orchestras. The diverse elements work together to enrich meaning and pure musical pleasure.
Waters was joined by a stellar lineup of musicians, including guitar legend Jeff Beck, featured on seven songs. "Jeff was hugely important to the making of the record, and it was one of the peaks of my musical life," says Waters. "To have him sitting in my billiard room playing harmonics and then playing the melody on the whammy bar – which he does all the way through the first song, 'The Ballad of Bill Hubbard'– it was absolutely extraordinary."
All the album's nuances come through clear as a bell in the 5.1 surround mix and re-mastered stereo mix by James Guthrie, who mixed the original release and has worked with Waters since Pink Floyd's The Wall (1979). The restoration was no small task, given the fact that Amused to Death was written and recorded over a period of nearly five years, using three different formats (one analog, two digital). Guthrie traveled to London to track down the original masters – and found hundreds, with multiple takes of the same song in different formats. He essentially had to rebuild the album before he could begin working on its sound.
The effort was well worth it, says Guthrie. "This is such a rich album, conceptually and musically. You have Jeff Beck playing on eight songs. Duets with Don Henley, P.P. Arnold and Rita Coolidge. Orchestral arrangements by Michael Kamen. And you have Roger at his best, writing and singing his arse off. In my opinion, this album contains some of Roger's finest work."
Continuing his collaboration with Waters that dates back to 2005, visual artist/filmmaker Sean Evans created new gatefold and cover art for the re-release. For the gatefold, Evans sourced news footage and photographs from AP, and then used digital tools to achieve the effect of distressed, low-bit images. "The artwork is meant to complement the lyrics," Evans explains. "We never identify where the images are taken from, but you get a sense of 'Something's not right. We're doing something wrong.'"
The new cover art for Amused to Death focuses on a little boy bathed in the glow of a giant TV screen, reflecting the sense of urgency Waters feels about the album's themes. "In terms of the way we educate young people, I fear we are encouraging our society to amuse itself to death at a greater rate than we ever were," he comments. "What if we spent on the education the money we spend on building weapons? What if children were asked not prepare themselves for lives as consumers and producers, but to prepare themselves to become adults who think about things, who have open minds, and care about the rights of the human being? Can you imagine what the world might be like?"