Carriers are reporting longer-than-normal shipping times. Acoustic Sounds is not responsible for in-transit delays.

| | |
| --- | --- |
| Viewing 1 - 1 of 1 Products | |
---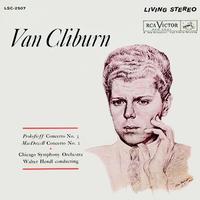 Product No:
CAPC 2507 SA
Available:
PreOrder
Category:
Hybrid Stereo SACD
Label:
Analogue Productions (RCA Living Stereo)
Maybe Cliburn's Best Recording





5 Stars
Posted Wednesday, March 28, 2018 by
Richard Schneider
An enlightened choice. One of the best engineered piano concerto recordings ever made, so much so that it even sounded great on cassette! It's like you're there in the best seat in the house. It's also one of Cliburn's best recordings, and an absolutely top drawer performance of the Prokofiev. The MacDowell I'm not so crazy about this piece, but Cliburn and Hendl make a great case for it, and the sound is of the same demonstration quality. Other ideal piano concerto recordings from this period include Beethoven 3 with Gary Graffman, Hendl/CSO, and the Brahms 2nd Piano Concerto with Sviatislaw Richter, Leinsdorf, and the CSO. I can hardly wait for this pre-order to be available. Don't let it take all year!
---
| | |
| --- | --- |
| Viewing 1 - 1 of 1 Products | |