Clark Williams
1962 - 2013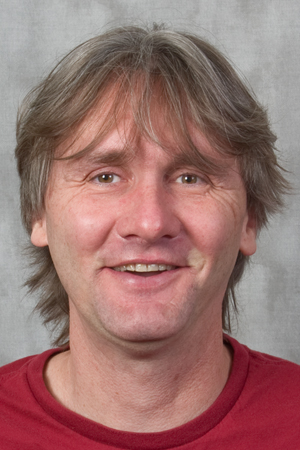 Our dear friend and coworker Clark Williams passed away early Saturday, August 24, 2013, following his yearlong struggle with cancer. Clark was only 50.
Clark would have said he "snuffed it." Cause that's the sort of thing he said when someone died. Not because he was flippant about it or didn't care – far, far from it. No, it's just one of the many unique little ways or sayings he had about him that'll make those of us who knew him well miss him so.
There's no conveying through writing who Clark was. He had a special style about him, entirely his own. And it was infectious. He was hilarious. He was extraordinarily talented. He was independent. He was passionate. And he was cool. Above all, he was unique – and memorable. Maybe among the best things you could say about a person.
Through the prism of Acoustic Sounds, it's important to describe in more detail just how talented this man was. There's not been a better ear. We might grant you an equal, but we ain't coming off that statement of nobody better. 'Cause it's the truth. Clark was flat-out gifted in the way that he could listen to music. His ability to hear what was taking place in a recording was incomparable. And that's what we do at Acoustic Sounds. We sell music to audiophiles – people who want to hear the best sound that recording and playback technology can deliver – and we ourselves are audiophiles. Clark was better than all of us at diagnosing what sounded good – or bad – and why.
More importantly, he had fun doing what he was good at. This whole business of people being ate up with their high-end stereo being better than the next guy's, or using a stereo as a status symbol was silly to Clark. What Clark cared about was: Does it sound good to you? And, does it sound better than what you had before? He urged people to trust their ear, to not take it too seriously. To love what they were doing. Otherwise, he'd likely have said, do something else.
And, man, did his customers trust him. Equipment manufacturers, too. A lot of people tapped into his talent and reaped the rewards of his recommendations. He was a whiz at turntable setup, at system compatibility, at building systems to fit various budgets. Oh, and he could turn people on to music from various eras and genres. He never subscribed to the shortsighted, unimaginative curmudgeon philosophy of "there's no good new music or recordings." Nonsense. His stereo wasn't stuck in the '70s and '80s – the era of his youth. He enjoyed a healthy variety.
Clark made major professional contributions to Acoustic Sounds and to the industry at large. In 2006, he co-produced The Ultimate Analogue Test LP – a record that lived up to its name in helping people set up their turntables for optimal playback. The record has become the industry standard and has won numerous awards. Clark also was perhaps the most instrumental person in encouraging Chad Kassem to start Quality Record Pressings, now widely considered to be the world's finest pressing plant.
Clark made the workplace fun – a lot of fun. He worked for Acoustic Sounds first in the 1990s for a couple of years, and then again from 2004 to 2011. His antics were never ending. He teased the people who needed it most, and he wasn't afraid to be relentless. He really, really was like a big kid. And he had this whole cool combination of Cajun colloquialisms (he's from Houma, Louisiana – born and raised) and casual style. It was, well, fun…and funny. And his memory…Clark had a freakishly good memory. Right up to the end, he could recall with lightning quickness the funniest stories having to do with the people with whom he was visiting.
He was something of a renaissance man – into yoga, cars, fishing, investments, running, whiskey, art, guns, marksmanship, food, travel, live music and whatever else we're leaving out. If it was fun, he probably dug it.
And he had found his suitable copilot these past seven-or-so years – his wife, Kate. They were adventurers together, and they did their best to set the world on fire with the time that they had. Clark retired from Acoustic Sounds in 2011, and he and Kate moved to what Clark called "the redneck Rockies" – northwest Arkansas. It was an area – the Ozarks – where they had loved to camp, explore and relax. They got set up in what they called their "tree house" and got down to some good living.
The cancer came on strong and advanced – brain tumors – August of last year. It was a hell of a seesaw from there. Clark's wife, Kate, maintained one of the most inspiring, informative and regrettably tragic journals one might imagine via their Caring Bridge page throughout the ordeal. Eventually, after enjoying two brief periods of having been supposedly cancer free, more tumors cropped up – on the other side of Clark's brain. It was curtains – that's what Clark might have said. He was admitted to Hospice and a few days ago returned to his home as he'd wished. Clark died exactly one year from the day of his first diagnosis.
Clark's steady message throughout his sickness – and actually even before he was sick – was to value time. "That's what I don't have," he said. "I can make more money, but I can't make more time." He told those who'd listen to hug their kids, to dance with their wives, to go places, to do the things they wanted to do.
Sage advice, wouldn't you say?